Location
Our apartments are located in Atrani, one of the most distinctive and beautiful towns in the Amalfi Coast.
Located in the center of town, next to the community building and the town square, they have a spectacular panoramic view of the sea and are very peaceful.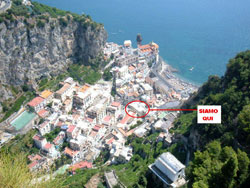 In the vicinity you can find lots of commercial activity such as: Grocery stores, clothing stores, and ATM/bancomat. You will also find a various selection of restaurants and bars all within walking distance. The beach is also comfortably close by, within walking distance.
To arrive at Atrani it is sufficient enough to follow the sings for Amalfi, which is very close by.