Amalfi Coast Life
The Amalfi Coast is a famous and well known location that doesn't need to be presented, but I would like any way to leave some advice on what to do and see.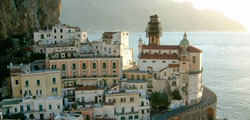 Atrani Next to Amalfi, it was once an integral and noble part of Amalfi during the epic republic. Today it is one of the smallest communities in Italy and it offers a unmistakable panorama, honored by many master painters like Escher. Atrani is one of the Amalfi Coast's nocturnal highlights, because it is full of restaurants and pubs which can be found in the local square. What not to miss: The Maddalena church and side streets.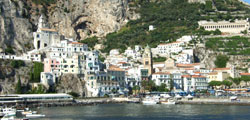 Amalfi The pearl of the Coast and also the most famous. An important past that is still visible in the glorious cathedral and the antique Republic armory. Today tourism is the principle activity in the town and you will find lots of stores and shops. We recommend the outstanding local desserts and pizza that is still cooked traditionally in wood burning ovens. What not to miss: The Sant'Andrea cathedral, the antique armory, the civic museum.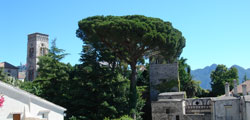 Ravello Commands the coast from above and is a must see site in the Amalfi Coast. Described by Boccaccio in his book Decamerone, Ravello offers an abundance of manifestations, demonstrations and initiatives during the summer season as well as in the winter. The Ravello festival held every year attracts many visitors. Even though the night life is quite calm compared to the other coastal towns, it still offers lots of restaurants and pubs for your enjoyment. What not to miss: The villas Rufolo and Cimbrone
Positano The last gem on the divine coast perhaps the most scintillating and stylish. Known for it's famous clothing stores, it also offers lots of events during the summer months. A very alive and exclusive night life which is centered at clubs on the beach. What not to miss: The shopping.